UK seasonal food information, tips and recipe ideas, updated every week
SEASONAL FOOD OF THE WEEK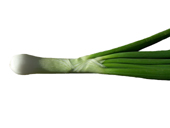 Spring onions can be used for so much more than just adding to your Peking Duck pancakes. When raw or very lightly cooked they impart a wonderfully vibrant yet mild flavour where normal onions would be overpowering. Make some champ by folding chopped spring onions into creamy mashed potatoes - add some grated cheddar if you like - and marvel at how such a simple dish can taste so fantastic. Or combine with ginger to form the soul of a number of classic Chinese and Japanese dishes.
IN SEASON NOW
cauliflower, kale, leeks, purple sprouting broccoli, salsify, spinach, spring onions, swede, wild nettles
bananas (Windward) [i], blood oranges [i], kiwi fruit [i], lemons [i], oranges [i], passion fruit [i], pineapple [i], rhubarb
cockles, dab, dover sole, gurnard, hake, langoustine, lemon sole, lobster, mussels, oysters, red mullet, salmon, shrimp, whitebait, winkles
[i] denotes imported produce
For information on seasonal food in the USA or Canada, please visit our sister site.