UK seasonal food information, tips and recipe ideas, updated every week
SEASONAL FOOD OF THE WEEK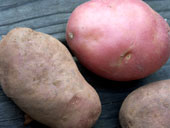 Nutritious, delicious and endlessly versatile, the potato is by far the most important vegetable in Europe and has been particularly warmly embraced by cooks in the UK and Ireland. How impoverished would our national cuisine be without golden roast potatoes, thick-cut chips, or creamy mash?
IN SEASON NOW
brussels sprouts, cauliflower, celeriac, celery, chicory, horseradish, jerusalem artichoke, kale, kohlrabi, leeks, parsnips, potatoes (maincrop), purple sprouting broccoli, salsify, shallots, swede, truffles (black) [i], turnips
bananas (Windward) [i], blood oranges [i], clementines [i], kiwi fruit [i], lemons [i], oranges [i], passion fruit [i], pears, pineapple [i], pomegranate [i], rhubarb, tangerines [i]
guinea fowl, hare, mallard, partridge, turkey, venison
clams, cockles, dab, dover sole, gurnard, haddock, halibut, hake, langoustine, lemon sole, lobster, mackerel, mussels, oysters, red mullet, salmon, scallops (queen), skate, turbot, winkles
[i] denotes imported produce
For information on seasonal food in the USA or Canada, please visit our sister site.