UK seasonal food information, tips and recipe ideas, updated every week
SEASONAL FOOD OF THE WEEK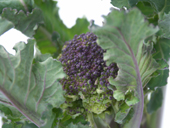 After a fairly sparse couple of months on the leafy veg front, the start of the purple sprouting broccoli season marks a welcome addition to the winter vegetable palate. Simply steamed or boiled, it partners almost any fish or meat dish, and it also takes centre stage in excellent dishes such as Broccoli with Anchovy.
IN SEASON NOW
cauliflower, celeriac, chicory, jerusalem artichoke, kale, kohlrabi, leeks, parsnips, potatoes (maincrop), purple sprouting broccoli, salsify, shallots, swede, truffles (black) [i]
bananas (Windward) [i], blood oranges [i], kiwi fruit [i], lemons [i], oranges [i], passion fruit [i], pineapple [i], pomegranate [i], rhubarb
turkey
cockles, dab, dover sole, gurnard, hake, langoustine, lemon sole, lobster, mussels, oysters, red mullet, salmon, shrimp, skate, winkles
[i] denotes imported produce
For information on seasonal food in the USA or Canada, please visit our sister site.