UK seasonal food information, tips and recipe ideas, updated every week
SEASONAL FOOD OF THE WEEK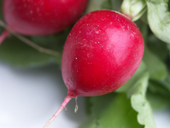 Juicy, crunchy and crisp, UK-grown red radishes add a delightful punchy colour and flavour to dishes. Their peppery taste stimulates the production of saliva and rouses the appetite. Fantastic with aperitifs (especially chilled Fino Sherry) when served with butter and salt on the side: wipe a radish across the butter before dipping it in salt.
IN SEASON NOW
asparagus, broccoli, carrots, jersey royal new potatoes, lettuce & salad leaves, new potatoes, peas, radishes, rocket, samphire, spinach, spring onions, watercress, wild nettles
bananas (Windward) [i], kiwi fruit [i], rhubarb
basil, chervil, chives, coriander, dill, oregano, mint, nasturtium, parsley (curly), rosemary, sage, sorrel, tarragon
lamb, wood pigeon
cod, coley, crab, haddock, langoustine, plaice, prawns, salmon, sardines, sea trout, shrimp, whelks, whitebait
[i] denotes imported produce
For information on seasonal food in the USA or Canada, please visit our sister site.