UK seasonal food information, tips and recipe ideas, updated every week
SEASONAL FOOD OF THE WEEK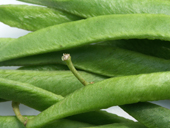 Fresh, young runner beans are a gem amongst the many wonderful vegetables available during the British summer. At their best they are at once tender, succulent and bursting with flavour. There can be few better ways of serving runner beans than piled onto a plate alongside meltingly soft roast lamb, roast potatoes and gravy, with a good glass of claret or perhaps a Coonawarra cabernet sauvignon to wash it all down. Or so we thought until we discovered Runner Bean and Chilli Salsa (see recommended recipes) - a dish with the uncanny ability to be a perfect match with practically any barbecued food.
IN SEASON NOW
artichoke, aubergine, beetroot, broad beans, broccoli, carrots, chillies, courgettes, cucumber, fennel, french beans, garlic, kohlrabi, lettuce & salad leaves, mangetout, new potatoes, onions, pak choi, peas, peppers, potatoes (maincrop), radishes, rocket, runner beans, spring onions, sweetcorn, tomatoes, turnips, watercress
apricots [i], bilberries, blueberries, cherries, gooseberries, greengages, loganberries, melons [i], nectarines [i], peaches [i], plums, raspberries, redcurrants, strawberries
basil, chives, coriander, oregano, mint, parsley (curly), parsley (flat-leafed), rosemary, sage, sorrel, tarragon, thyme
beef, lamb, rabbit, venison, wood pigeon
cod, coley, crab, dab, dover sole, grey mullet, haddock, halibut, herring, langoustine, lemon sole, mackerel, pilchard, plaice, pollack, prawns, red mullet, salmon, sardines, scallops (queen), sea bass (wild), sea bream, sea trout, shrimp, squid, whelks, whitebait
[i] denotes imported produce
For information on seasonal food in the USA or Canada, please visit our sister site.