UK seasonal food information, tips and recipe ideas, updated every week
SEASONAL FOOD OF THE WEEK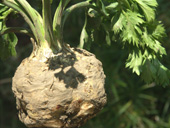 It may appear to be just an ugly, uninteresting, knobbly root but celeriac has inner beauty. The flesh - crispy when raw, silky smooth when cooked - has a delicate taste which suggests the flavours of celery and parsley with a slight nuttiness. Try it mashed with potatoes and garlic or in the excellent Celeriac Remoulade.
IN SEASON NOW
brussels sprouts, cauliflower, celeriac, celery, chicory, horseradish, jerusalem artichoke, kale, kohlrabi, leeks, parsnips, potatoes (maincrop), salsify, shallots, swede, truffles (black) [i], turnips
bananas (Windward) [i], blood oranges [i], clementines [i], kiwi fruit [i], lemons [i], oranges [i], passion fruit [i], pears, pineapple [i], pomegranate [i], rhubarb, satsumas [i], tangerines [i]
guinea fowl, hare, mallard, partridge, turkey, venison
clams, cockles, dab, dover sole, gurnard, haddock, halibut, hake, langoustine, lemon sole, lobster, mackerel, mussels, oysters, red mullet, scallops (queen), skate, turbot, winkles
[i] denotes imported produce
For information on seasonal food in the USA or Canada, please visit our sister site.