UK seasonal food information, tips and recipe ideas, updated every week
SEASONAL FOOD OF THE WEEK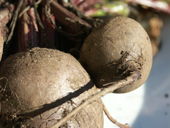 Many people are averse to beetroot having only experienced crinkle-cut slices steeped in overpowering vinegar. This is a shame because fresh beetroot has much to commend it in terms of flavour (sweet, slightly earthy), texture (smooth and velvety) and colour (dark red/purple, or an appealingly lurid pink when combined with cream or yoghurt).
IN SEASON NOW
beetroot, brussels sprouts, cauliflower, celeriac, celery, chicory, horseradish, jerusalem artichoke, kale, kohlrabi, leeks, parsnips, potatoes (maincrop), salsify, shallots, swede, truffles (black) [i], truffles (white) [i], turnips, wild mushrooms
apples, clementines [i], cranberries [i], passion fruit [i], pears, pineapple [i], pomegranate [i], quince, satsumas [i], tangerines [i]
almonds [i], brazil nuts [i], chestnuts, hazelnuts [i], walnuts [i]
duck, goose, grouse, guinea fowl, hare, mallard, partridge, pheasant, rabbit, turkey, venison
clams, cod, coley, dab, dover sole, gurnard, haddock, halibut, hake, langoustine, lemon sole, lobster, mackerel, monkfish, mussels, oysters, plaice, red mullet, scallops (queen), sea bass (wild), sea bream, skate, turbot, winkles
[i] denotes imported produce
For information on seasonal food in the USA or Canada, please visit our sister site.